2020-02-05 no comments
Actors
Views: 293
Coronavirus: Photos From Wuhan Under Quarantine
The outbreak of a new strain of coronavirus, first detected in the Chinese city of Wuhan, in Hubei province, has led to massive efforts to quarantine major cities and halt the spread. The current death toll has reached 82 in China, with another 2,900 confirmed cases. The city is rapidly building two hospitals in a matter of days, set up to accommodate more than 2,000 coronavirus patients. Several photographers continue to report from Wuhan, where streets appear nearly deserted after a traffic ban was put in place.

A woman checks her son's forehead in Wuhan, China, on January 27, 2020. 
Roads remain empty in Wuhan on January 27, 2020. 
Construction continues at a field hospital in Wuhan on January 26, 2020. Wuhan Leishenshan Hospital, with a capacity of 1,300 beds, will be completed on February 5. This is the second temporary hospital, after Huoshenshan Hospital.

Construction workers drive excavators at the site of a new 1,000-bed field hospital being built in Wuhan to accommodate the increasing number of coronavirus patients, on January 24, 2020. The hospital is set to be completed by February 3.
An engineering contractor walks in front of construction machinery at a Wuhan field-hospital site on January 26, 2020.
A police officer takes the temperature of a driver at a checkpoint on a street on the outskirts of Wuhan on January 27, 2020.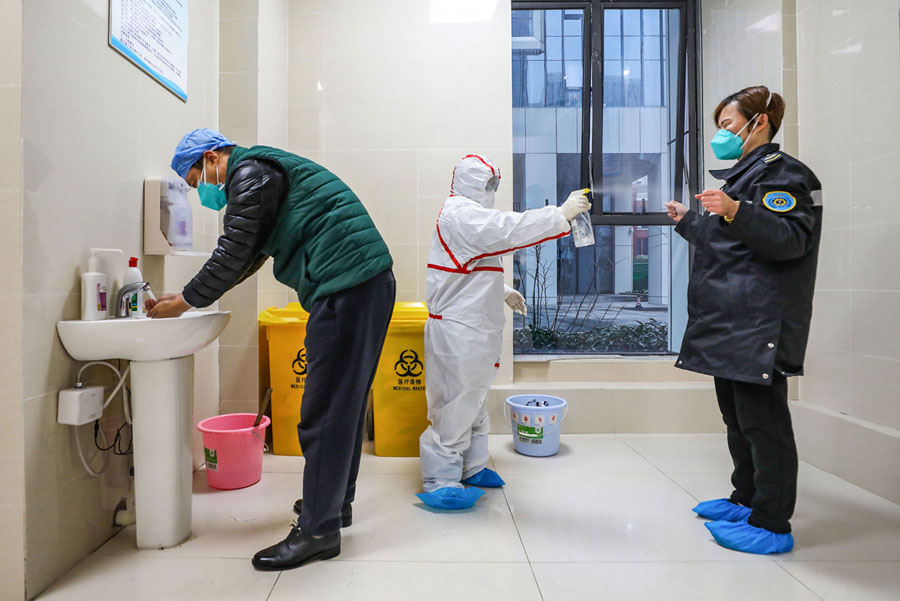 This

photo, taken on January 26, 2020, shows medical staff members in Wuhan disinfecting one another while wearing protective clothing to help stop the spread of the coronavirus.